TRUE LEADERSHIP INTERVIEW Part 1 of 3
James Mapes
TotalPicture Radio Interview
True Leadership
Welcome to our special Leadership Channel podcast on TotalPicture Radio. This is Peter Clayton reporting.
I'm delighted to have back on the show today James Mapes who is the founder of Quantum Leap Thinking. He is the creator of The Transformation Coach and best selling author and a highly acclaimed business speaker, consultant, seminar leader and personal excellence coach. I'm really happy because James has agreed to do a series of leadership podcasts with me. Today we're going to talk about True Leadership, which is one of the programs that he presents oftentimes mainly to large corporate clients.
James, welcome back to TotalPicture Radio.
James: Well, it's a pleasure to be here, Peter. Thank you for having me.
Peter: This program is called True Leadership: The Neuroscience of Effective Leaders. Give us a little bit of background on how you developed this program.
James: It came out of one fact and that is that having read many books about leadership, listening to speakers on leadership, it is absolutely confusing because it seems to be a point of view. You'll hear from one person that it's about the ability to create a strong vision which is wonderful; with other people, it is instilling the integrity of leadership and it goes on and on. I got to tell you after I spend all these years avoiding talking about leadership, I decided to throw myself into learning what is the bottom line, what are the traits of a true leader.
Peter: Let's talk about some of these traits.
James: Let's play a quick game.
Peter: Okay.
James: Let me ask you to name two business leaders either living or diseased that you feel were true leaders.
Peter: Steve Jobs and Jack Welch.
James: Give me three or four what you consider traits that made them who they are.
Peter: Steve Jobs – and I think certainly anyone who I feel is a great leader it starts to me with really being passionate and really believing in something and I think certainly with both Steve Jobs and Jack Welch, you could say these were both and are both very passionate individuals who care deeply about their companies and who also have the ability to communicate to the people who work within their organizations, their vision of that organization and the culture that they are trying to create for an organization.
James: What are some other traits of leadership that you feel are important?
Peter: Communication skills and authenticity I think is important. I think it's really important especially in today's world, James. I mean you know phony-baloney when you see a phony-baloney, right? So I think being authentic and being transparent is also something that certainly would probably five years ago wouldn't have been considered as being a trait of a great leader but I think today it's really important.
James: I think you've been around this business a long time as well, I think, because a lot of people might say morals or kindness and so forth. What I do in this presentation right at the top is to get people to name their leaders and what they feel that are their traits and you hit a couple of them. A lot of people will say first of all, well, they're honest or they have integrity or their leadership style was important. Well the reality is that culture often dictates what we feel leadership should be. In fact, the style, I mean if you look at Gandhi or you look at Margaret Thatcher or you look at Joan of Arc, they were all effective leaders along with the business leaders that you named but they also had different styles. So the style of leadership, let's take Jack Welch who is one of the people you mentioned, kindness is not necessarily what I would consider a trait.
Peter: Yeah, when your nickname is Neutron Jack, I guess –
James: I guess not, right? Yeah, he is the man that studied so he had something. See I had to step out of the box for this. I had to scrape away my Midwestern upbringing about morality and all the stuff and I had to scrape and scrape and scrape and look at leaders and interviewed leaders and I came up with five what I consider traits which are morally neutral, which are actually at the core of all leadership.
So we have passion which you mentioned at the beginning and you can't fake that. That has to come from somewhere. I've seen leader after leader after leader who call themselves leader or who are projected leaders who don't have the passion because – and we'll get to the brain a little bit – passion ignites. Passion is going to engage Peter across the table for me. I'm a passionate person. You're a passionate person. So we have passion.
Then we have the ability to turn fear into power. Most people think leaders are fearless. Years ago, I wrote an article called Fearless Leadership and everybody who read it says, "How do I become fear-free?" They were very taken aback because leaders are full of fear. When I was doing this, I was interviewing leaders and the president of Omnicom gave me a quote. I had to kind of pull it out of him because we're talking about leadership and he said, "Leaders don't take foolish chances. However, they are visionaries. They don't take their eyes off the target. They are full of fear, know the odds are against them and still take the first step because there is not a greater sense of accomplishment than overcoming your fear and beating the odds." I started to look at that but you look at the fear that must plague all presidents of organizations, corporations and the government everyday but there's some kind of magical thing that happens in their head that they're able to transform it into power. Now what I teach is that there is primitive fear which is real stuff. It's the fight or flight. It's how we're programmed. It's how the brain is programmed. It's what I call delicious fear which is what I feel when I race cars or jump out of a plane or stand up in front of an audience.
Then there is the one that I talked about and it's called illusory fear and that is when what we see triggers that fight or flight mechanism and we create the illusion of fear, rejection, change, success, failure, commitment. By creating that, we react as if it were real creating it to be real. So that could be that we make a decision based on a false perception of fear of change which is one of the biggest points. Without change, there's no growth. But leaders are able to hold the anchor to all these which is the vision.
So the third leadership trait – we'll get to vision in a second – is empowerment which to me is universal. Gandhi and Martin Luther King were able to go out and trained leaders to be leaders you know and so many people. We could name some of the top corporations that they have not trained leadership to take over. So it's the ability to give people the resources, give people the permission, give people the space. You'd give them what you want. I remember Dennis Hewitt once said to me because he actually hired me to do some business for him, I said, "What do you want?" He said, "Surprise me." So I had to be accountable for that and create something that was powerful enough to move people sitting in an audience.
So the empowerment aspect is giving you my vision, giving you the tools to accomplish it, giving you the freedom, giving you the support and being very careful how I criticize.
The fifth is communicating the vision but the fourth attribute is what is about the neuroscience of leadership. The last three to four years has given so much information about how the brain works and how I affect you and how you affect me and how our energies together create something new that that's what has propelled me to create this program is what is a vision, how do we create it, how do we move people with this.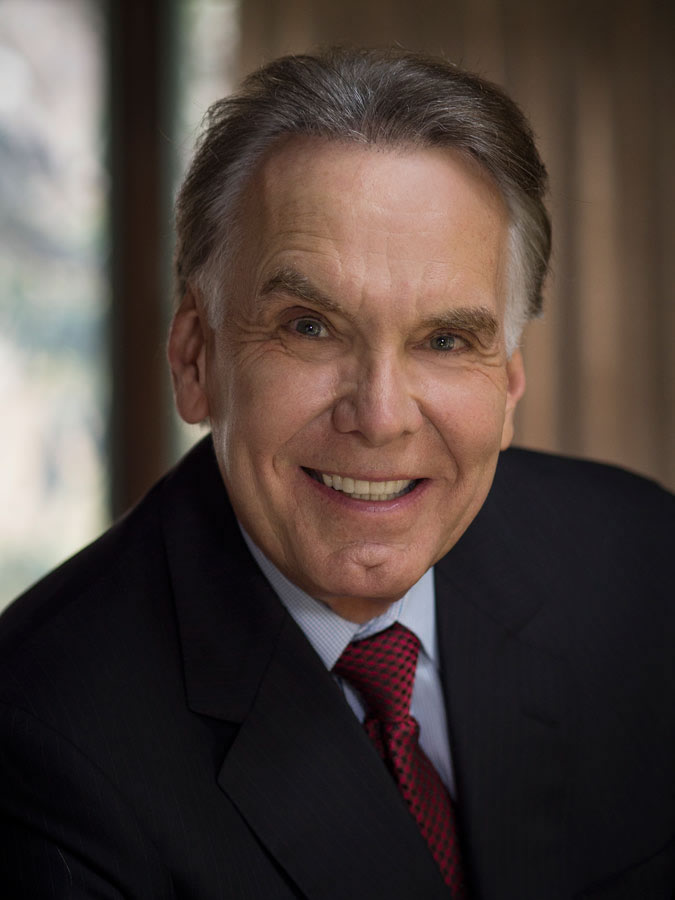 James Mapes is the founder of Quantum Leap Thinking™, creator of The Transformational Coach™, expert on the psychology of "applied imagination," best-selling author, highly acclaimed business speaker, consultant, seminar leader and personal excellence coach.